Posted by Jodi Petersen on May 28th 2019
We have some western frames crafted from barnwood and barbed wire that are a novel way to showcase your art or photography. They compliment rustic and rugged decor and make a PERFECT gift for that inner Cowboy or cowgirl that you are or may know!
This is our Hobble Creek series western frame with barbed wire. We use a 2" wide piece of barnwood that has been blessed with the elements and add a distressed alder overlay. The frame is finished with a bordering barbed wire. This frame is perfect for anyone who loves primitive decor taste.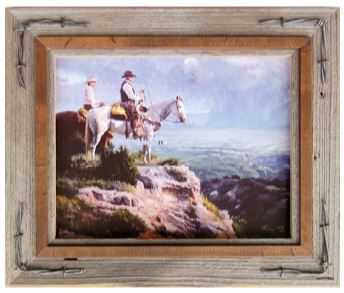 https://mybarnwoodframes.com/hobble-creek-barbed-wire-frame/
This one is one of my favorites, it has such great character. It is our Texas Vaquero western frame. Its started with sturdy reclaimed wood timber, with a light walnut-stained cutout. the frame edges are accented with barbed wire, giving this frame a unique western look. This one looks great with any photo. That is what I love about it, it isn't just for western decor. The versatility of this frame makes it number one for me! It comes in a 8 x10 or 11x14.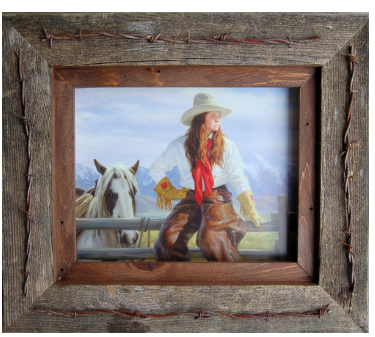 https://mybarnwoodframes.com/texas-vaquero-barbed-wire-frame/
Rustic decor is our specialty. This is the Laramie Style Rustic Barnwood. If you are looking for a extra wide barnwood frame this is perfect one for you! You will love the width and the barbed wire for that extra western appeal.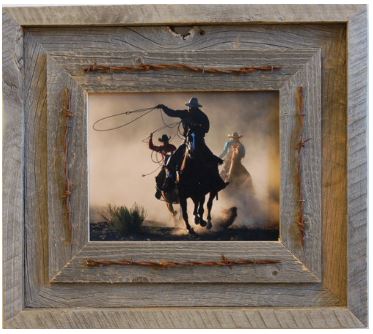 https://mybarnwoodframes.com/laramie-barnwood-frame/
This frame looks so great with scenic photos! It will look great with a photo of your favorite Cowboy as well. It is the Sagebrush Rustic Frame with Alder and Barbed Wire. They are available in sizes ranging from 4x6 to 20x30. This one could become your personal favorite with the lightly stained walnut color. As with nearly all of our frames they can be hung horizontally or vertically. Hanging hardware is included with each picture frame.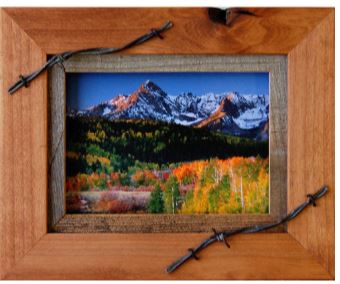 https://mybarnwoodframes.com/sagebrush-rustic-frames-alder-barbed-wire/
Which frame will you chose? I know that is a hard question! I struggle with that decision as well! Each week I am amazed at how many different unique options we have. I love that they are made right here in Utah. We have some very talented people working here!
We have our Memorial Day coupon still going for a bit longer if you are ready to Treat Yo Self! Again, I promise you will NOT regret it! Happy Shopping!