Posted by Jodi Petersen on Sep 6th 2019
I can't say it enough, I love the look of barnwood decor. The variations in color, I want everything in my house made of Barnwood! OK not everything but a majority of it. There is so much character in barnwood, not to mention a little piece of history in each item produced. Why wouldn't you want to have your house filled with it?
Are you looking to add some character to your bathroom, mudroom, kitchen or anywhere you want to hang things? You can't go wrong with this sweet hanging rack pieced together by recycled 3" reclaimed wood blocks. Wooden Towel or Coat Rack.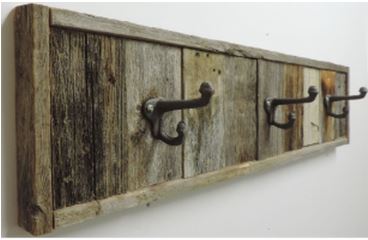 Use in a mudroom to hang coats, scarves, and gloves or use in a bathroom to hang towels. 3 rustic hanging hooks are already installed and ready to go to work. To hang the rack, simply mark your studs and screw the screws through the towel holder and into the studs. Shipment includes two 3" distressed screws for easy installation.
Dimensions: 28" L x 7.5" H x 1" D
3 hanging hooks already installed
Made in the USA
Ships in 1-2 Weeks
* Due to the nature of reclaimed wood, your hanging rack may look different than the one pictured here with varying natural reclaimed wood colors, tones, textures, nail marks, and knots making your piece 100% unique and one-of-a-kind.
Fun fact: We can customize the size of this rack! Contact us for a custom quote! https://mybarnwoodframes.com/custom-order-request/
Are you always on the hunt for your keys? Do you have so many key chains that it weights your pockets down? We have the perfect solution for you! This Wall Key Holder will simplify your search. You can add it to your bedroom, garage, the wall by the front door, any place that is convenient to hang your keys. The variations of color make each one unique.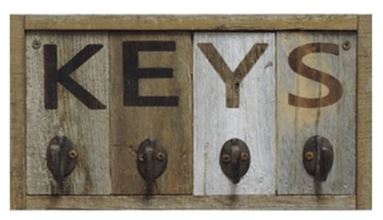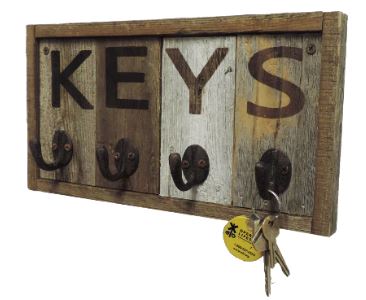 Each of our barnwood key holders are truly-of-a-kind, built right here in the United States from 100% reclaimed wood. With 4 small key hooks, the rustic style will make this hanger the perfect addition for your home or cabin decor. 3" distressed screws are included for easy installation through the pre-drilled holes. This hanger is the perfect way to keep your keys organized while adding a small piece of history to your home.
Dimensions: 7.5" H x 13.5" W x 1" D
Weight 1.5 lbs.
Ships in 1-2 weeks
Handmade in the United States.
One more item that I want to open your eyes to is the Chunky Blanket Ladder . How perfect is this for those blankets that are always laying on the couch or chair? This is such a great idea, it removes the messy look of blankets all over the family room. As you can see from the last photo, this ladder is solid and looks so charming next to the chair.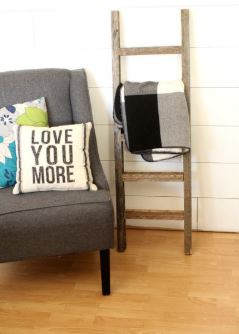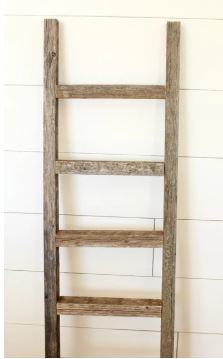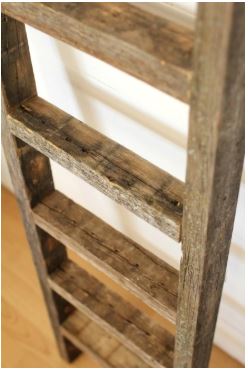 These ladders look welcoming next to the fireplace or a couch in your living room. This particular ladder is made out of authentic reclaimed wood 2x3s and is sturdy and thick. Add a garland, string lights, or greenery to add a little extra color and life to your ladder. For decoration only. You will love the look of this in your living room!
Dimensions: 48"H X 16"W X 2" D
Weighs approximately 14 lbs
Comes fully assembled
Due to the nature of reclaimed wood, each barnwood frame is 100% unique and comes with its own character, charm, knots, and color.
Ships in 2-3 business days
I have given you more items to Treat Yo Self this week! My Barnwood frames is such a great place to work. It's wonderful to see all the creations that are made here. It is so hard to just pick one product because there are so many that I love!