Posted by Jodi Petersen on Apr 12th 2019
Treat Yo Self Friday has arrived!
I don't know about you but, this time of year I always feel like I need to re decorate a room or two. I think it's the change of season. I quickly realize the amount of time that requires and I change my mind. I want to talk about the ease of refreshing any room with new frames! I have taken some of our most popular frames and used the same picture to show how different they can look.
I am sure you are thinking " Those boys are adorable", I have to agree! This is our Lighthouse Narrow Width 2" Frame. https://mybarnwoodframes.com/5x7-country-picture-frame-narrow-width-2-inch-lighthouse-series-6747/ I love the color variations and the width of the frame. It can be ordered with a easel stand or cardboard for hanging on the wall.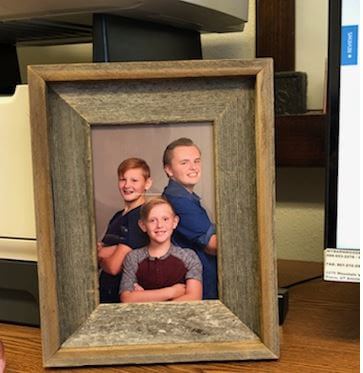 My desk decor :)
This frame lightens up the whole space as well as changes the appearance of the photo. This is our Antique White Reclaimed Wood Frame https://mybarnwoodframes.com/antique-white-reclaimed-wood-frame-1/ Crafted from 2.25 inch reclaimed wood planks, then washed with a coat of antique white paint and distressed to look like an aged original.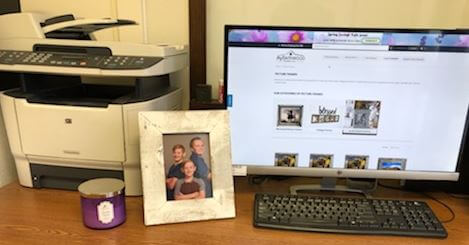 The simplicity of this frame is what appeals to me the most, yet the rustic look makes it an original. No 2 frames are the same! This is our Homestead Narrow width 1.5" frame. https://mybarnwoodframes.com/5x7-barnwood-picture-frame-homestead-narrow-1-5-inch-flat-rustic-reclaimed-wood-frame/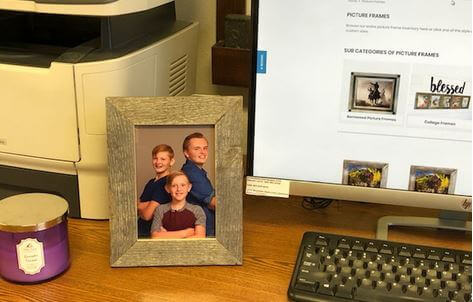 This one might be my favorite! The cracks in the wood, the variances in color are the distinctive features that make this one my favorite. Homestead Wide Width 3" Frame. https://mybarnwoodframes.com/5x7-barnwood-frames-wide-width-3-inch-homestead-series/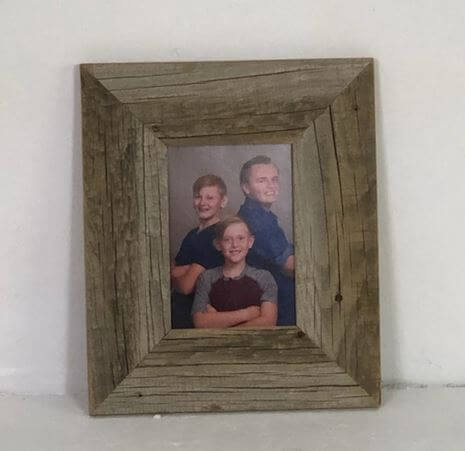 You can see how refreshing your frames make all the difference in a room decor. I am positive that you will love the look of a new frame!
Come on, give it a try, you know you want to! What better day to do that than "Treat Yo Self Friday" We have a spring special going on right NOW! Use the code SPRING2019 for 20% off on these frames and MORE in our shop!