Posted by Jodi Petersen on May 17th 2019
It might be my excitement for warm weather that is fueling this months speed but, WOW this month is flying by! I love the way the bright summer light bounces off mirrors to expand your space. Mirrors are such a brilliant addition to any room.
Are you looking for a mirror that you can hang in any room, one that compliments every decor? We have two mirrors that are absolutely PERFECT!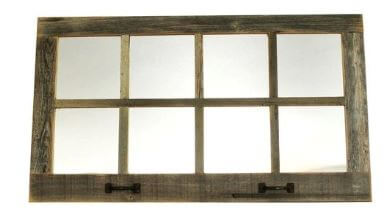 Farmhouse Mirror- 8 Window Pane Mirror
https://mybarnwoodframes.com/farmhouse-mirror-8-window-pane-mirror-barnwood/
This antique barnwood mirror has 8 window panes, is approximately 37.5 inches wide X 21.75 Inches tall and ¾ Inches deep. The mirror is made from reclaimed wood, and as such each mirror is unique and has its own charm and character. All of our reclaimed windowpane mirrors are made right here in the USA. This rustic window pane mirror comes with two rustic pull handle at the bottom of the mirror to give it a unique look and feel.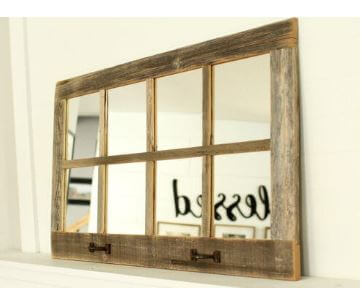 These mirrors are in stock! They ship next business day!
This is our brand new Octagon Barnwood Mirror. It's a woodshop favorite, and there is no other like it. Designed by our Woodshop Foreman and part owner Mitch Giles himself. This mirror is made from authentic reclaimed barnwood and is sure to be a great conversation piece in your home or cabin.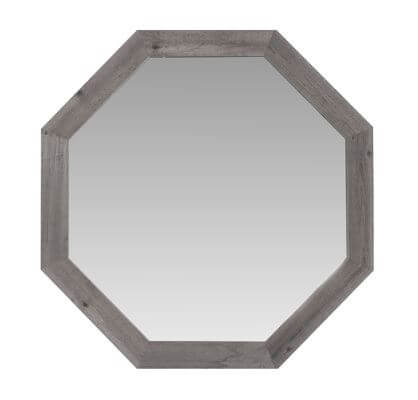 Octagon Barnwood Mirror 36"
https://mybarnwoodframes.com/reclaimed-wood-mirrors/
The Octagon mirror is 36" X36" from side to side
The frame of the mirror is 3" wide and has a low profile of only ¾ deep
Comes with D Ring hanging hardware
Each Mirror is unique and is made from true reclaimed wood
Mirrors are built to order and ship in 7-10 business days
Quality craftsmanship guaranteed
This mirror would look fantastic in a bathroom with a double sink. I love how the unique look of it. I can picture this mirror in an entry way as well.

Take a look around your home or office and I am sure you can picture one of these hung on your wall. It's yet another item we have that you will not regret! Treat Yo Self!